SPU: B1V322
DESCRIPTION
Tank tops always make me smarter, looser and more creative. It's just not as formal as a jacket, and looks more worn than a shirt alone. It reserves room for grand gestures. Durable cotton rope is reminiscent of honest work. They need sturdy clothing, with a pay bag that can be quickly tucked into one of their pockets. Wear it over a shirt or long-sleeve shirt, preferably with denim, also planning a trip - it won't wrinkle and quickly adds color to your outfit as you go from trade show to hotel room and espresso to dinner .
FEATURES
Retro special wash
Made with our breathable and strong fabrics
3 patch pockets
Adjustable shoulder straps on the back
Vintage military-inspire
Tailored fit, please size up for a looser fit.
MATERIALS
FITS
Pictured model model Sam wearing size L
Model : Sam
Hight : 72.5 inch / 185cm
Weight : 81 kg
Bust : 41.4inch / 105cm
--- See our Model Index if you need more info
CARE
Machine washable

Hand wash in water below 40°C

Non-chlorine bleach

Need to be flat to dry, ironing temperature should not exceed 110 ℃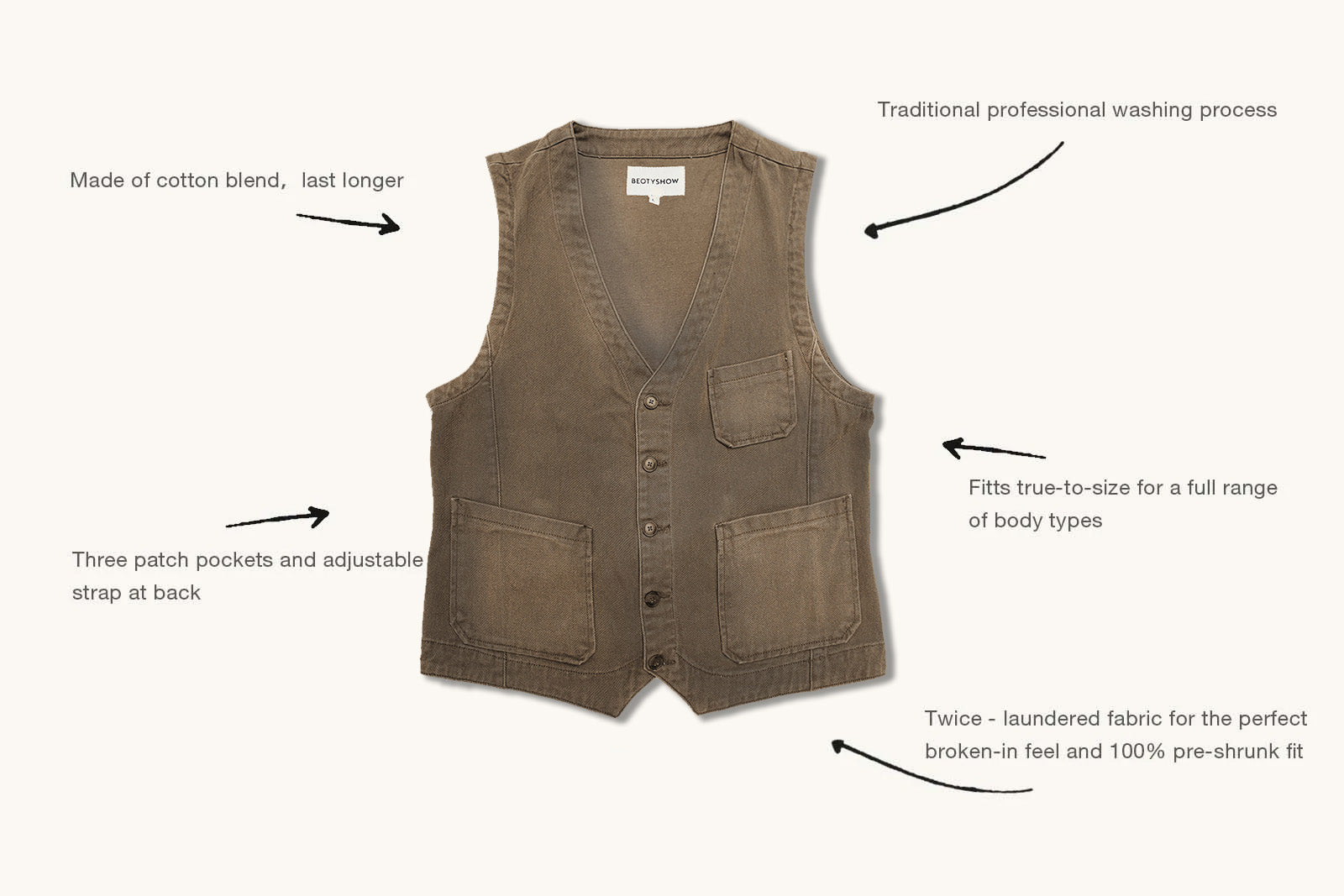 Super vest, super price
Nice quality fabric and well sewn. An everyday wear in cooler weather.
wrapping paper vest
Nice vest, kind of a light chocolate color. Well worth the money.
Perfect fit and weight for what l wanted!
Good quality for the price
Nice vest for casual or sporting wear…quick delivery
Product was just as described
Pleased with the product not so much the waiting incurred for it to arrive. Their courier system rivals the pony express only not that fast.
Vest
Very good, size perfect, good material,100% recommended
Pay packers vest
The quality is outstanding! I was surprised that it had weight to it. As I said, quality. Stitching, rivets show good workmanship! The size was perfect.
I wasn't surprised that they didn't meet their delivery deadline. I was expecting a longer wait than they claimed.
The color wasn't "wrapping paper" either, it was a darker brown.
I would buy from them again and I'm giving them 5 stars for their strengths. They are the best company in China that I've done business with!
Nice vest!
This is a nice looking & stylish vest. It arrived in a reasonable amount of time. The price was good. It's so nice even my wife commented on it...a BIG deal since I don't have much sense of style!
Outstanding. I mean it !
This vest is very well made and it fits perfectly. I now have 3 of them.