SPU: B4V500
DESCRIPTION
On March 27, 1958, France passed the Breton Stripe Shirt Act, which made blue and white striped knitted shirts part of the French sailor's uniform. It is believed that striped t-shirts help to find sailors who fall off the boat. The classic Bretton blue and white stripes symbolize the sailor, and the collar is also a prominent symbol of the French sailor's shirt. The collar's wonderful use is that it can quickly take off clothes after falling into the water and won't jam the neck. Later, the Striped T-Shirt became the standard for the French Navy and fishing fleet, and other navies worldwide. It became fashionable a century later.
Read more: The Breton Stripe —— A Classic Derived From History
FEATURES
Restore the most classic stripe design
Suitable neckline size & the comfort of wearing
MATERIALS
CARE
Machine washable

Hand wash in water temperature below 40°C

Non-chlorine bleach

Need to be flat to dry, ironing temperature should not exceed 110 °C
COLORS
Navy/White Stripes
Black/White Stripes
White/Olive Stripes
White/Grey Stripes
White/Blue Stripes
FITS
Pictured model Adam wearing size M,model Sam wearing size L.
Model : Sam
Hight : 72.5 inch / 185cm
Weight : 81 kg
Bust : 41.4inch / 105cm
Model : Adam
Hight : 73.6 inch / 187cm
Weight : 77 kg
Bust : 38.2 inch / 97cm
--- See our Model Index if you need more info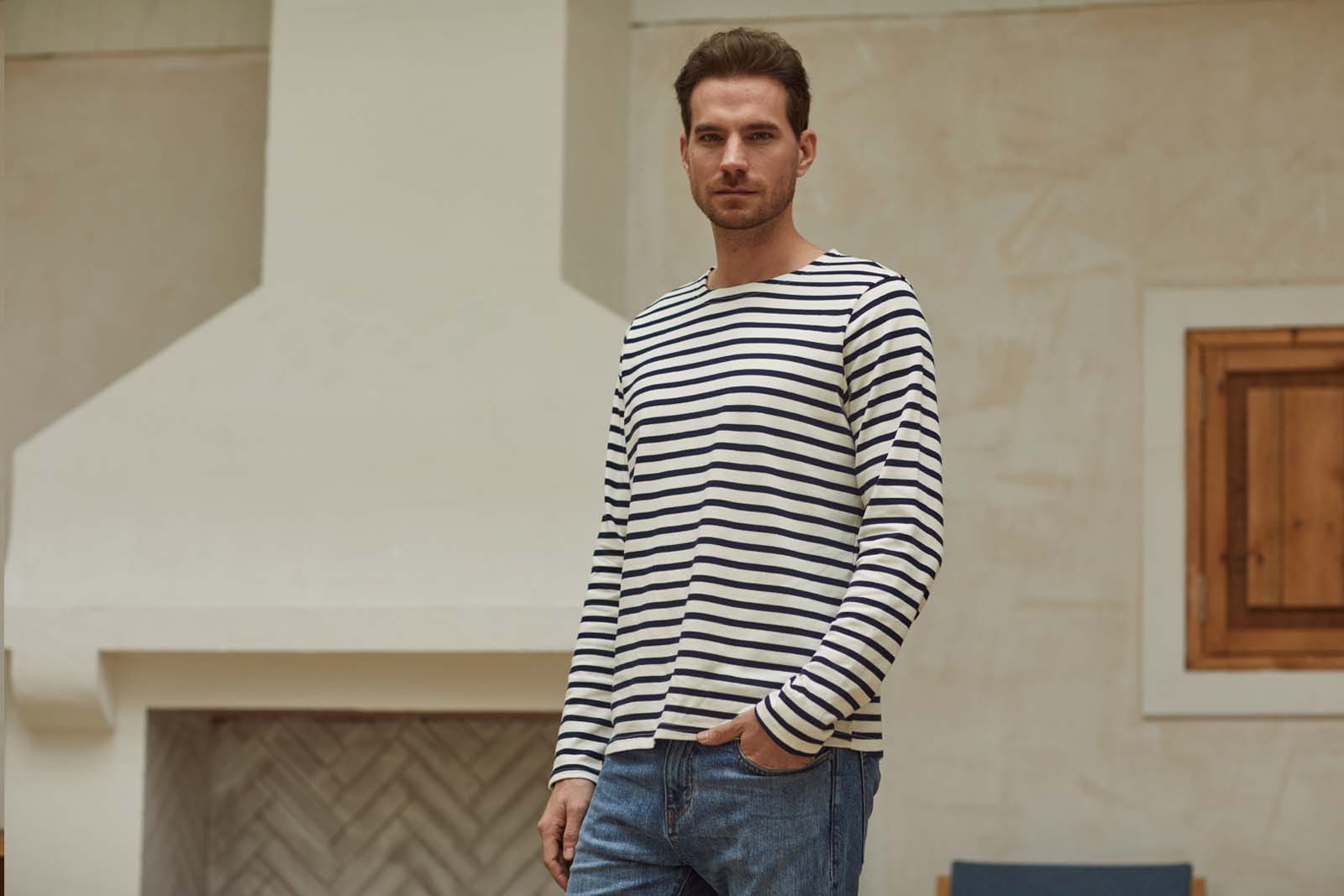 Happy
Perfect everything! Delivered timely!
Fit is perfect! Very Happy.
Thank you !